Fiber Optic Hybrid Slip Rings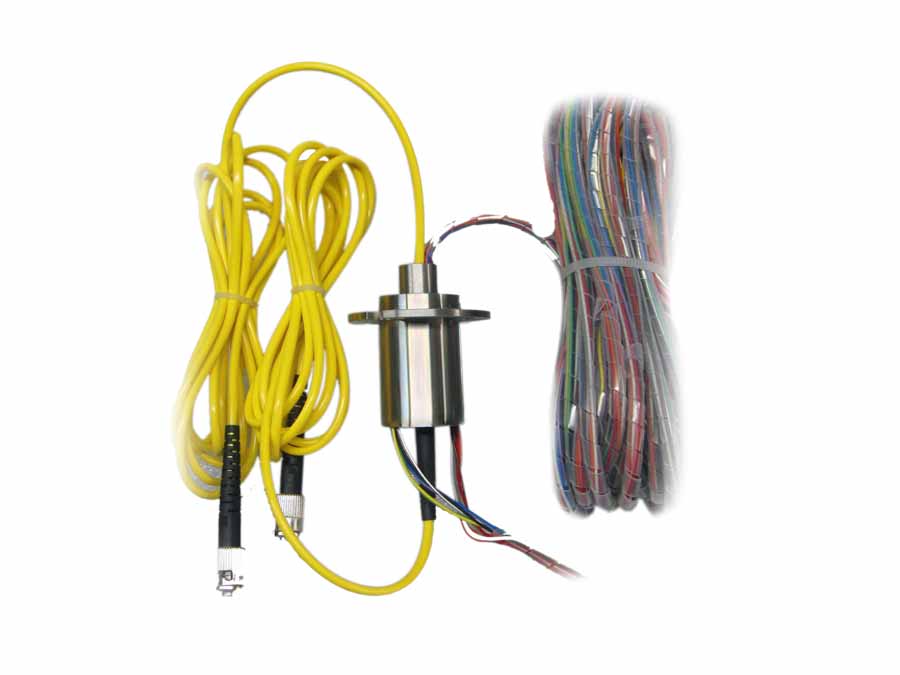 Fiber optic hybrid slip rings combine an electrical slip ring with a fiber optic rotary joint, providing a multifunctional rotating interface for electrical and optical connections. These hybrid FORJ units allow the unlimited transmission of power, signal and large amounts of data from a stationary to a rotating platform, not only optimize the system configuration but also save cost.
AOOD provides wide range of electrical and optical combinations to meet various applications' needs. A highly compact miniature slip ring may be integrated with the smallest single channel FORJ to transfer low current, signal and high speed data for HD camera systems. A rugged high power electrical slip ring may be integrated with multi-channels FORJ for use in ROVs. When harsh environment operational capability is required, stainless steel housing, a fully sealed enclosure or fluid-filled pressure compensation are optional. Additionally, the hybrid optical-electrical units can be combined with fluid rotary unions to provide a complete electrical, optical and fluid rotating interface solution.
  ■ Combined electrical slip ring with fiber optical rotary joint
  ■ Flexible transmission of power, signal and high bandwidth data through a single rotational joint
  ■ Wide range of electrical and optical options
  ■ Multi high power circuits optional
  ■ Compatible with data bus protocol
  ■ Can be combined with fluid rotary unions
  ■ A variety of existing hybrid units optional
  ■ Space saving and cost saving
  ■ High quality standards for design, manufacture and test
  ■ High reliability under vibration and shock
  ■ Maintenance free operation
  ■ Mobile aerial camera systems
  ■ Surveillance systems
  ■ Robots
  ■ Automated machinery
  ■ Winch and TMS applications
  ■ Unmanned vehicles
Model

Channels

Current(amps)

Voltage(VAC)

Size




DIA × L (mm)

Speed (RPM)

Electrical

Optical

ADSR-F7-12-FORJ

12

1

2

220

24.8 x 38.7

300

ADSR-F3-24-FORJ

24

1

2

220

22 x56.6

300

ADSR-F3-36-FORJ

36

1

2

220

22 x 70

300

ADSR-F7-4P16S-FORJ

20

1

2 A / 15A

220

27 x 60.8

300

ADSR-T25F-4P38S-FORJ

32

1

2A / 15A

220

38 x 100

300
---
Previous:
Fiber Optic Rotary Joints
Next:
Marine Slip Rings
---