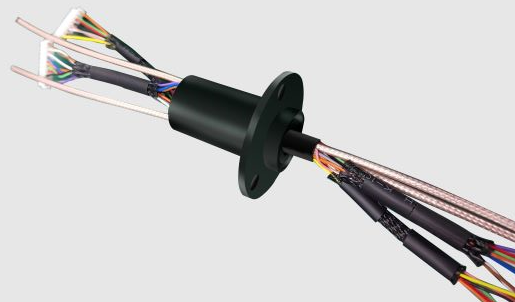 AOOD high definition (HD) video slip rings are used to transfer 1080P or 1080I HD-SDI video signals from a stationary end to a rotating end while requiring unlimited rotating.
AOOD as a trusted electrical slip rings manufacturer, provide Ethernet HD video slip ring solutions, HD-SDI video slip ring solutions and fiber optic combined slip ring solutions for HD video transmission in different camera systems. Standard HD video slip rings up to 56 circuits. These HD video slip rings units are proved with superior electrical performance and high reliability, can operate in demanding environments and suit for military usage.
The dual channel high definition (HD) video slip ring ADC24-1U-2SDI provides dual channel HD-SDI video plus one channel USB signal and other 16 channel 2 amp connections. It is compact designed with 22mm diameter and 42.6mm height to suit for camera systems or rotating video displays mounting requirement. 2 RG179 coax cable is provided for 2 channels HD video transmission, compatible with USB signal, Ethernet and most communication protocol.
The ADC24-1U-2SDI utilizes gold on gold fiber brush technology and cutting- edge processing to ensure 2 channels HD video and USB signal steadily transferred through the capsule slip ring body, and not easily interfered by external power and signal.
---
Post time: Jan-18-2021